If you want to appreciate the work of your handyman, Christmas is just the time!
Christmas Presents for Home Improvement Lovers
Gift ideas for a handyman should have functional value, as most of them are practical people. Here are the 10 Christmas gifts you should consider.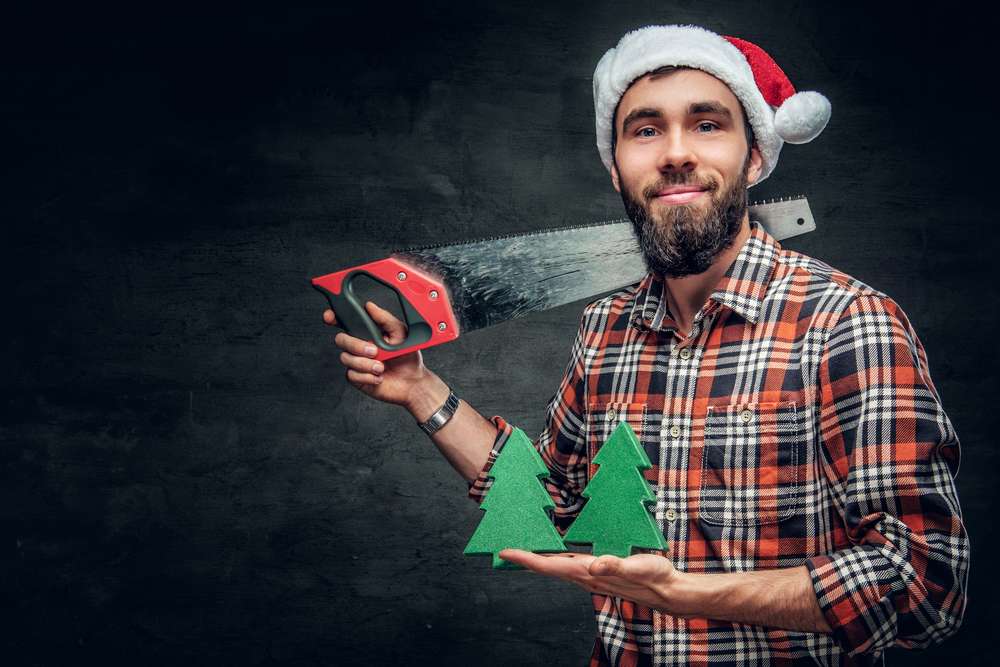 1. Premium Tool Box
Having a toolbox is essential for any handyman. Look for one that comes with multiple compartments and trays where they can organize their tools according to their type or size.
An extendable handle and wheels are a good perk, making the toolbox easy to carry around. Average price: $30-$100.
2. Multi-Purpose Workbench
This Christmas gift will surely be appreciated by your handyman.
A heavy-duty workbench is designed to provide a stable platform for cutting, sanding, and other tasks.
It usually features adjustable clamps and stops, allowing your man to easily control the material they're working with. This Christmas gift costs from $100 to $1000.
3. Compact Cordless Drill
A compact cordless drill is also an excellent Christmas gift for a DIYer.
The device can fit into tight spaces and has great torque, giving your handyman plenty of power when drilling through wood or metal surfaces. This price tag goes around $50.
4. Hammer Drill Set
A hammer drill set would be perfect for any home improvement job that requires drilling large holes in concrete walls or other hard surfaces.
The hammer set comes with various drill bits and accessories, giving your man plenty of ways to make holes in tough materials. The price ranges from $80 to $150.
5. Adjustable Wrench Set
An adjustable wrench set is essential for any homeowner's toolbox.
This item allows you to quickly tighten or loosen nuts and bolts without having to worry about the size or shape of the nut or bolt head.
You can get a good wrench set for around $70.
6. Magnetic Screwdriver Set
A magnetic screwdriver set is perfect for those small screws that are hard to reach and require precision when turning them.
It comes with a variety of interchangeable tips so your working man can tackle any job with ease and accuracy.
The average price for such a set is $30-$60.
7. Toolbox Organizers
Help your handyman stay organized with toolbox organizers that fit inside the drawers of their toolbox.
These come in different sizes and colors, so you can find a container that best fits your needs.
Having a neat set of tools can help get the job done quickly. This Christmas gift costs anywhere from $5 to $50.
8. Powerful Flashlight
It's wise to have an extra flashlight on hand, especially when working in small dark places like crawlspaces or attics where lighting is scarce.
A good quality LED flashlight can light up those tight spaces without having to worry about battery life or brightness settings.
You can get a nice flashlight for $25 that will serve you for a long.
9. Premium Work Gloves
A pair of solid work gloves will help protect your handyman's hands from cuts, scrapes, and blisters.
Look for gloves with a good grip and breathable material to ensure comfort while they're hard at work.
This Christmas gift will cost you from $10 to $80 per pair.
10. Portable Pressure Washer
Recent advancements in technology have made this possible – a portable pressure washer that can be used both indoors and outdoors.
The price is about $299 and is perfect for a handyman who needs to clean up tough messes in tight spaces or hard-to-reach places.
What to Look for When Choosing a Christmas Gift for a Handyman
Consider your man's skill level and the type of work they do – whether it's plumbing, carpentry, or electrical.
Look for products that are multi-purpose and easy to use. Purchasing a whole kit is a nice idea – it's like giving him a toolbox in one package.
Choose items that are durable and long-lasting, so your handyman can enjoy them for years to come.
Read reviews from other users who have purchased similar items to get an idea of the item's quality and effectiveness.
Make sure you choose something within your budget. Quality tools and equipment can cost a few hundred dollars or more.
Check the product's warranty and customer service support. Make sure you can return the item in case of broken pieces or if the size is wrong.
Frequently Asked Questions
How Much Should I Spend on a Handyman Christmas Gift?
The amount you decide to spend on a Christmas gift for your handyman depends on the type of present and the budget you have in mind.
Generally, tools and equipment can be expensive, so it's important to consider how much you are willing to invest.
If you want something more affordable, consider gadgets and other accessories like gloves or a tool belt.
What Are Some Popular Christmas Gifts for Handymen?
Popular Christmas gifts for handymen include tools such as drills, screwdrivers, hammer sets, saws, and more.
They may also appreciate useful accessories such as tool belts or safety glasses.
Gadgets like laser levels and multi-tools are also great options to consider when looking for gift ideas for a handyman.
What Gift Ideas Should I Avoid?
Avoid Christmas gifts that are too complicated for the handyman to use, as well as those that may be too costly.
Consider whether or not your gift idea will be useful to them and if it fits within their skill set.
Christmas is a time of giving, and you want to make sure whatever you purchase will be appreciated by the DIYer in your life.
What Are Good Last-Minute Gift Ideas for a Handyman?
If you need a quick solution, consider a subscription box.
Subscription boxes for a handyman are an excellent way to give someone a Christmas present without having to guess what they might like or need.
They are also more affordable than many of the other Christmas gifts out there, so if you're shopping on a budget, this could be your best bet.
Conclusion
Christmas is a time to show how much we appreciate the handymen in our lives.
If you're looking for evergreen Christmas gift ideas for a handyman, you don't have to purchase something too expensive or complicated.
There are plenty of top-notch options out there that won't break the bank or take too much time and effort to buy.
Whether it's an essential tool kit, useful subscription box, or unique gift set – any of these Christmas gifts will make your handyman feel appreciated this season.