For your feline friend to live an healthy and happy life, you need to feed her with nutritious meal and not junks.
Your cats need foods that are rich in protein and healthy fats.
There are two different kinds of food you can feed your pet cat.
You have the option of either going for the branded cat foods or human food which will suit their health.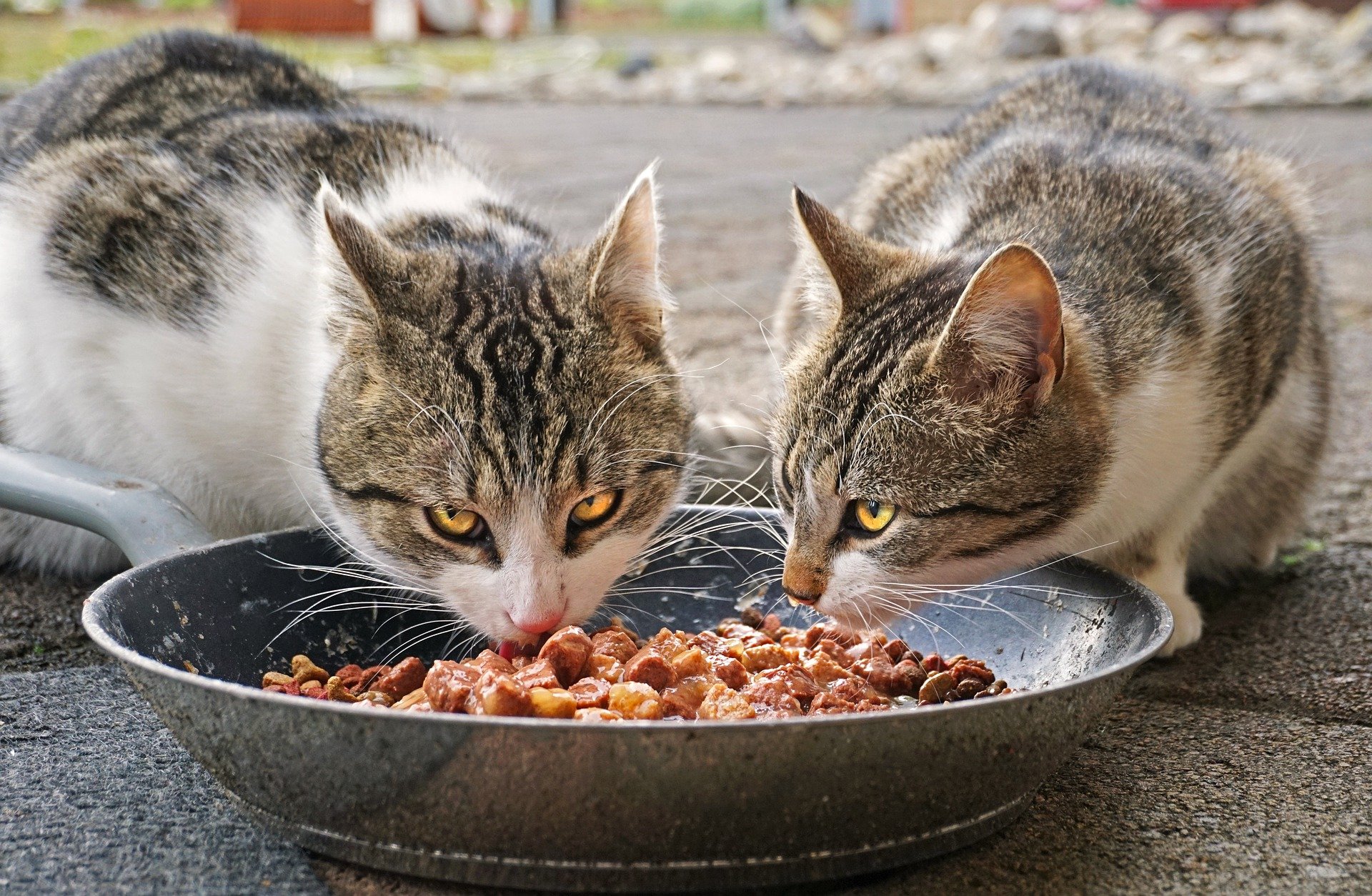 Human Foods that Cats can Eat
Some of the human foods that cats love, which are also homemade foods are white and brown rice, oatmeal, maize etc.
These foods are safe for your cats when cooked. Other healthy foods for cats are beef, sardine, and liver.
They are vet recommended homemade cat foods which are rich in proteins and fats.
Benefits to cat's Skin 
To make your underweight or skinny cat to gain weight fast, you need to feed her with high calorie and fatty foods.
Not only will this help in weight gain, these foods can also help if Cat's fur looks scruffy, dull or separated.
And also if there's dandruff, fur loss or cat having flaky skin, eating Protein and fatty foods like chicken and turkey will help reducing shedding, make their skin to be shinning and improve the cat's coat.
Canned cat's Foods for healthy Life
Some of the best Cat's canned foods for healthy and shiny skin coat are Weruva BFF, Purina pate Natural recipes.
Others are Fluffy Hound, Gatos lamb formula, Lotus duck pate, Instinct by Nature grain-free foods which can all help to improve cat's skin and correct minor issues related to nutrient deficiencies.
Having some of these cat foods in stock to throw a snack for your feline friend is a good idea.
For that, you should know the best foods to serve your cat to help with good vision, strong bones, agility, healthy heart, reproductive system and overall wellbeing.
Foods that your Cat can Eat and those she can not Eat
Let's look into some of the frequently asked questions regarding foods, fruits and vegetables that can improve cat's health when eaten and some others you should avoid serving your cats.
Eggs: Your cat can eat eggs without problem is it's well cooked.
Only raw egg should not be given to cats. This is because the Avidin protein in the albumen of the egg can inhibit the absorption of biotin nutrient.
This essential vitamin B7 is responsible for cat's good skin and coat, therefore, the consumption of raw eggs would make the cats to develop skin and coat problems overtime.
Bread: This is also a common human food for cats but only when the bread is baked that it can be given to cats.
Just like we humans can not eat raw dough so also it will cause digestive problems in cats if it's taken raw.
Flour made into dough can not be given to cats unless it's made into cookies.
Fish: While fishes are loved by cats and they're included in both homemade cat's foods and even canned foods, not all kinds of fishes are good for cats.
Fish like salmon should be baked or cooked fresh before given to cats.
You should not try feeding your cats with dead salmon and it should be in small quantity.
You should not be feeding your cats with salmon everyday.
Tuna: This is another popular fish for cat eating.
Tuna can be good for cats especially when they're specifically prepared for cats' consumption.
The reason being that tuna has mercury and can be poisonous when too much is given to cats.
Tuna is very popular in most grain-free canned cat's food. However, it should be cooked fresh and served to cats in small amount and not everyday.
Dairy products: Diary products like milk and cheese are not really good for most cats because of the lactose they can not tolerate in the body and may cause stomach upset and digestive issues.
Milk, cheese and others are not toxic to cats as some insinuated and the level of lactose tolerance range from one cat's specie to another.
If you'll have to add milk or cheese to supplement your cat's diet, kindly do only once in a while and just a little content of it should be okay at a time.
Fruits and Veggies your Cat can Eat and those she can not Eat 
While there are fruits and vegetables cats can eat, some are forbidden for cats to eat them so they don't get sick.
Grapes and raisins: These are good examples of fruits that should not be offered to cats.
Grapes are known to cause kidney problems for dogs and this is also possible to occur in cats as well.
That does not mean you should get panicked when your cat licks or eats apple, apple pie or drink apple juice but making it a favorite for your cat is very unhealthy towards cat's maintaining cat's health.
Citrus fruits: Citrus fruits such as oranges, tangerine, maderine orange, tangelo, lemon blood and others are likely going to cause vomiting and diarrhea for your cat.
This is because the Psoralens found in most citrus fruits is toxic to cats.
Pineapple and pineapple juice on the other hand are not harmful to cats but when too much of it is taken, the fructose content would cause diarrhea in cats as well.
Other fruits that are healthy to cats when taken in small amount are pears, strawberries, raspberries, blackberries and blueberries.
They are not toxic and not much healthy to cat also.
For pears to be given to cats, the fleshy part is the best and should not be given to your pet regularly.
Carrots, lettuce, broccoli, green beans and corn are all good for cats while banana, garlic, mushrooms, tomatoes, onions or avocado should be avoided.
Recommended Foods to help Cat's health issues 
One common issue with cats is the stomach sensitivity.
This can occur when your cat is reacting to the foods eaten.
Some of the best homemade cat food for your cat that's having digestive problems are white rice, barley, corn, and oatmeal.
You can also prepare sweet potato without the skin and add chicken beef.
These can as well be given to kitten with sensitive stomach and diarrhea. They are holistic vet recommended cat foods.
If you prefer any of the best dry cat food, then you should go for Blue buffalo, Purina One, Orijien and Wellness Core Natural grain free food.
Others are Wysong uretic feline, Blackwood chicken meal, Earthborn holistic chicken for sensitive stomach ND urinary problem.