African swine fever (ASF) is a hemorrhagic disease caused by a virus.  Domestic and wild pigs are the carrier of the disease and it spreads quickly.
African swine fever has
serious economic and production impacts and had affected many countries including, China and the
United States and severe other countries in the past.
The virus causing this disease is very resistant; hence control in the form of providing immunity to the animals has been difficult.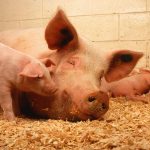 This is the reason African swine fever is very bad and caused heavy economic loss. It has also make pork prices go higher in the time past.
African swine fever has become a very serious problem for piggeries in some African countries and in other places, following recent outbreaks.
The disease may be parachute or chronic and pigs are affected through contact with both wild and domestic animals carrying or excreting the virus.
The incubation period is between five to fifteen days.
The symptoms of the African swine fever are the following
High temperature
Loss of appetite
Dullness
Bluish discoloration of the snout, ears, and legs.
Hemorrhages into the skin and diarrhea are also observed. There is a bloody discharge from the nose and throat and a drop in white blood cell count.
Occasionally, there could be convulsions accompanied by muscular tremors. Dehydration is also a common feature.
Treatment of African Swine fever
All attempts to treat this disease have been proved abortive and no vaccine has yet been found to control it.
Infected herds should be slaughtered while the premises thoroughly disinfected with a strong disinfectant, which should only be restocked after about six to eight weeks.
Preventive health measures have been observed to be effective in controlling the disease, but they have tonne adhered to strictly.
Stated below are the measures for the prevention of the disease.
The disease must be notified whether confirmed clinically or even suspected.
Isolation of and prohibition of movement of animals from the infected and neighboring units.
Taking of samples to an official laboratory for diagnosis
The compulsory slaughter of all stock on the infected unit whether I'll be suspected or healthy
Destruction of cadavers and contaminated products, disinfection, use of insecticides and rodenticides.
Control of movement of pigs within those regions where the infection is concentrated;
prevention of pigs leaving these regions.
Disinfection of means of transportProhibition of use of swill from human origin or uncooked slaughterhouse waste in pig feeding.
Restocking of infected units dependent upon the introduction of a small group of marker pigs to establish whether the virus is still present before complete restocking.
Prohibition of the citing of piggeries next to restaurants, abattoirs, meat factories, offal processors, etc.
Control of ticks and other vectors in extensive units
Organization of a regional surveillance service to include specialist personnel, and a fully equipped laboratory analysis service with personnel qualified in the diagnosis of different swine fever.