What are Dogs Wagons?
A dog wagon, also called a pet stroller is a short stroller wagon, a 4-wheeled stroller that's typically designed to move dogs, rather than babies.
While stroller wagons are used to carry 1 or more babies, dog stroller wagons are not intended for pups specifically but to move dogs who can't walk.
Dog wagons are for large senior dogs, dogs with arthritis, or any other mobility problems.
A pet stroller can be the best option for furry friends with joint inflammation, and difficulty walking or standing for long periods.
Best Stroller Wagons for Dogs who can't walk
Dog stroller wagons are a good option to get your old dogs or dogs with arthritis to walk again.
There are different types of pet wagons, so you should check the specs carefully and choose the best fit stroller for your dog's situation.
Choosing the best pet stroller for your furry friend greatly depends on their specific needs and preferences.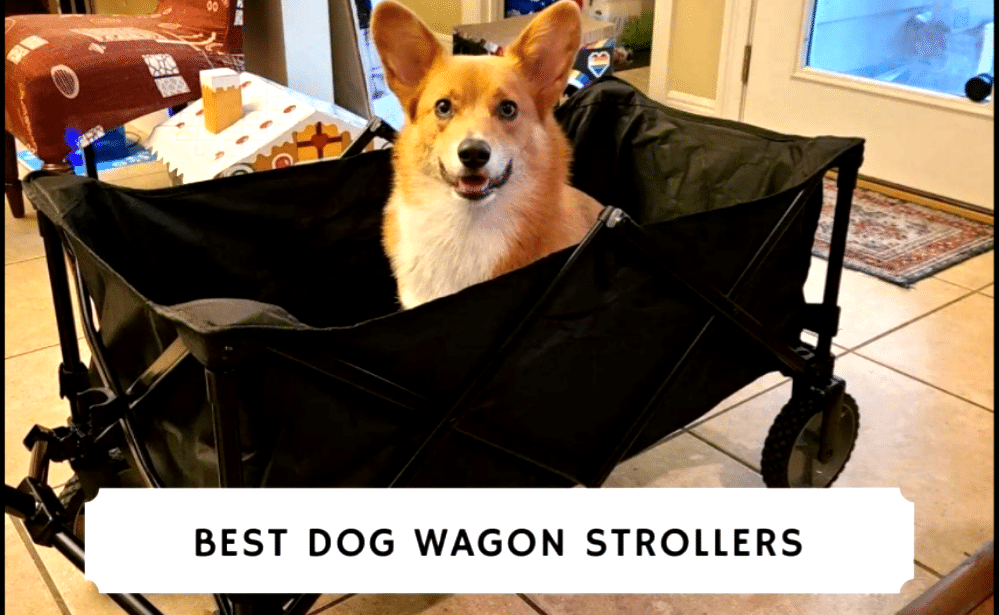 Pet Gear No-Zip Happy Trails Lite Pet Stroller
This wagon stroller is lightweight and easy to control, making it a good idea for small dogs with arthritis.
It features a no-zip entry, which means you can quickly and easily get your dog in and out of the wagon without fussing with zippers.
Mac Sports Heavy Duty Steel Frame
Mac sports heavy-duty steel frame wagon is one of the best dog strollers for walking.
It is a compact, collapsible, strong, and durable wagon stroller for medium and large dogs.
It has a steel frame and can support dogs that weigh up to 145 pounds.
This is good for dogs that can't walk at all, need not walk, or undergoing surgery, otherwise, it's a minus if your dog is having mild arthritis since your dog can't get in and out of the wagon herself.
Petique All Terrain Pet Jogger
Petique all-terrain pet jogger is good for large dogs, and it has air-filled tires that can handle rough terrain.
It's a good option for dogs with arthritis who still enjoy outdoor adventures. It also has a spacious interior and a removable padded bottom for easy cleaning.
Dual pet jogging stroller
The dual pet jogging stroller is specifically designed for seniors dogs with mobility issues.
It is a large enclosed wagon, foldable, and easy for dogs to get in and out of it.
It can accommodate more than 1 small or medium-sized dog and support weights up to 145 pounds comfortably.
Radio Flyer 3-in-1 EZ Folding Wagon
Radio Flyer has a range of wagon strollers that are multipurpose. This particular 3-in-1 EZ folding wagon stroller is not specifically designed for dogs.
However, it is versatile and can be used to transport dogs and groceries.
Just lothert anothstrollers stroller for pets, the weight capacity is up to 150 pounds, suitable for huge dogs like Great Danes, Boerboel boerboel, etc.
The wagon also features a UV-blocking canopy to protect your dog from harsh weather.
VIVOSUN Heavy Duty Collapsible Wagon
Vivosun heavy-duty wagon is another stroller suitable for transporting pets, including dogs.
The wagon is not designed for a dog's workout, and you'd need to support your dog while getting in or out of it.
It is large enough for your dog to sit, stand, or sleep therein, and it's made of durable cover material and a fris that are also easy to clean.
Vivosun heavy-duty foldable wagon stroller is multipurpose and easy to use. The maneuverability is great and the handle is adjustable to a comfortable l for the short and tall pet owners to pull.
Gen7Pets Promenade Pet Stroller
Gen7Pets promenade stroller has a low-entry design that makes it easy for dogs of any size suffering from arthritis to get in and out.
It also features a Smart-Canopy that can be opened or closed in different positions to provide your dog with the perfect amount of shade.
Vergo Dog Stroller Pet Jogger Wagon
Vergo jogger stroller wagon is a luxury pet stroller. It an features Oxford fabric and carbon steel frame for durability, a leash to keep your dog safe while transporting on roug,h terrain and mesh windows for fresh air while protecting against the sun.
This wagon got my 5-star ratings with both front and back wheel rotation, and a lock system to keep inur dog on a spot.
Also, you can easily collapse ths wagon,, and safe when not in use.
Pet Gear No-Zip NV Pet Stroller
This wagon has a sturdy, lightweight frame and a no-zip entry for easy access.
It also has a plush bolster pad and an adjustable canopy to keep your dog comfortable in all kinds of weather.
Conclusion
The best wagon stroller for a dog with arthritis or who can't walk again will depend on their size, mobility issue, the affected g, the   dog's estyle an,d the owner's.
Check the features of the different pet strollers in the market and pick the one that will meet your dog's specific needs.