Horse Guard Horse Supplements
Horse Guard is a company that produces a range of horse accessories and supplements.
It has supplements to improve digestion and weight gain in horses such as Equine Gut Guard, Super Weight Gain, horse hoof and hair supplements such as Biotin Hoof Blast, Equine Hoof Guard, and joint supplements like Equine Joint Guard Trifecta.
Horse Guard also has specific vitamins, Flaxseed supplements, and Complete supplements such as Horse Guard, Mega Dose, and Trifecta.
Their range of dietary supplements for horses is formulated with high-quality ingredients and are intended to address a variety of equine health concerns.
Trifecta 4-in-1 Horse Supplement
Horse Guard trifecta 4-in-1 equine supplement is a combination of mineral and vitamin supplement, joint supplements, pre and pro-biotic supplements, and horse hoof supplements.
This 4-in-1 product is designed to cater to horses of different sizes, and is formulated to have 1,500 IU of Vitamin E per dose.
Horse Guard Trifecta equine supplement is developed to support horses' respiratory function, joint and mobility, healthy immune system, and improve gut health.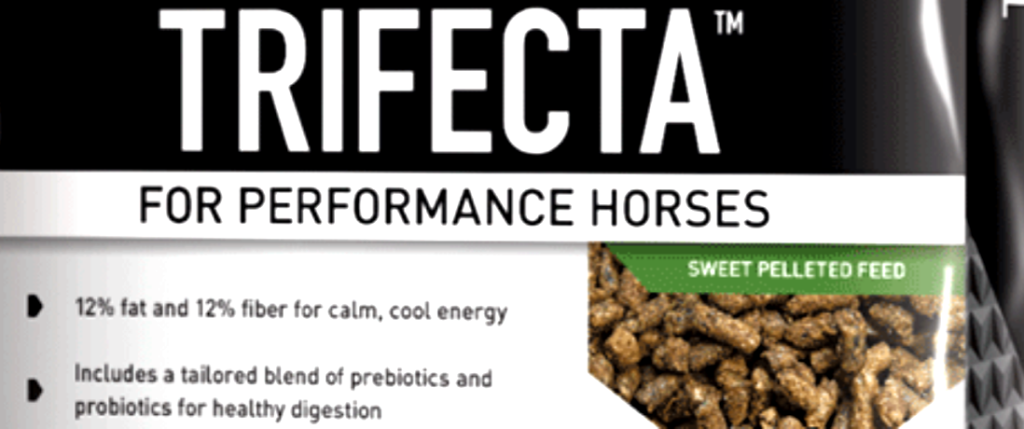 Ingredients of Trifecta Equine Supplement
Some of the main ingredients of this supplement are Yeast Culture, Corn Flour and Wheat Mill Run, Selenium Yeast, dl Methionine, and Saccharomyces cerevisiae.
Trifecta 4-in-1 supplement contains Vitamin A, Vitamin B1, Vitamin B2, Vitamin B6, Vitamin B12, Vitamin D3, Vitamin E, Vitamin C, Folic Acid, etc.
It has minerals like Calcium, D-Biotin, Zinc Sulfate, Monocalcium/Dicalcium phosphate, Manganous oxide, Glucosamine HCL, Sodium Hyaluronate, Ethylenediamine Dihydriodide, Methyl Sulfonyl Methane, Cobalt sulfate, Ferrous Sulfate.
Also. Cobalt, Magnesium, Iron, Manganese, Zinc and Copper Proteinate, Live Bacterial Inoculant, Bacillus Subtilis, and Bacillus Lichenformis are present in the dietary supplement.
How to Use Trifecta 4-in-1 Supplement?
You can give 8 ounces to 1,000 lb horse per day, and it means you're giving 4 different supplements, all in one.
You should mix the powdered supplement with your equine food and serve accordingly.
You can give it to male and female, horses, pregnant or nursing mares, and weanlings.
Benefits of Horse Guard Trifecta Horse Supplement
Horse Guard Trifecta 4-in-1 is one of the best vitamin and mineral supplements you can get for your horses because it's an overall horse supplement and worth the $300 price for a 40lb size in my opinion.
You can also get other sizes such as 10lb and 20lb in pellet form.
It improves your horse's gut health
Trifecta contains both prebiotics and probiotics which can improve digestion and promote healthy growth in horses.
These naturally occurring beneficial bacteria can help to correct digestive issues, including live yeast your horse can get from Selenium Yeast, and Yeast culture.
It helps muscle building
Lack of Selenium in horses can lead to muscle diseases, mobility issues, and problems in eating.
Trifecta contains 3% 100% organic Selenium and Vitamins that can fasten wound recovery, and improve disease resistance in horses.
However, you can not continue to give this supplement to your horse for years as too much Selemiun is bad for your horse, but horse owners use this to improve their horse for up to 6 months without any issue.
It promotes healthy joints
Not only does Trifecta 4-in-1 help in horse muscle development, Hyaluronic Acid, MSM, and Glucosamine can also keep their joints flexible, prevent joint diseases, and improves mobility.
It improves horse's coats, tails, and hooves
The supplement has the important vitamins and minerals needed to keep a horse's coat clean and shiny, and tail thicker and longer.
Zinc, Biotin, and Methionine are some of the ingredients responsible for shiny coats and strong hooves.
It improves your horse's overall health
Trifecta can improve the overall health of your horse, and increase her muscle tone.
It has balanced minerals and vitamins, does not make your horse hot, and can complete the limited nutrients in the hay.