What is Sherpa?
Sherpa, also known as faux-shearling is a fabric that's made from cotton, acrylic fibers, wool, or/and polyester.
Sherpa is not the same as wool, it's a curly piled synthetic fabric, likened to the clothing commonly used by the Sherpa people of Nepal, hence, it's named after them.
Is Sherpa (Faux-Shearling) Bed Good for Cats?
Sherpa is a good fabric for cat bedding and better than a fleece-only blanket because Sherpa blanket is warmer, and softer and provides better insulation than other materials.
Sherpa blanket is good for both winter and summer seasons, it has 2 sides: one side is smooth, while the other has a furry lining to protect your feline friend against wind and cold.
Sherpa is one of the best fabrics for a cat bed, it has both natural materials like cotton or wool and synthetic material, however, it's important to go for Sherpa bedding without chemical color and bleaching agents.
The only con of Sherpa bed is that it's non-renewable and may have a negative impact on the environment, but not the cat.
The chemical coating is also possible to make it windproof and waterproof, but there are quality brands that claim no-chemical Sherpa beds.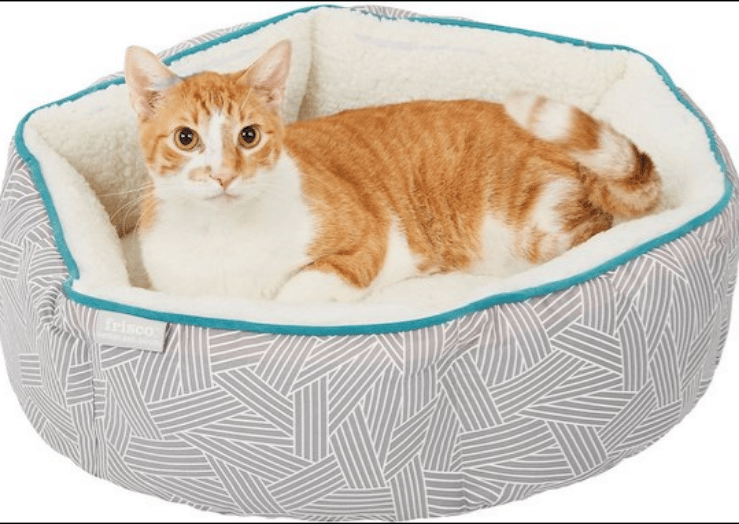 Do Cats like Sherpa Beds?
Cats like to sleep in their beds and caves. Cats however prefer soft bedding and soft bed surface to hard surfaces, although they sit and sleep on your furniture, but prefer their den and soft-and-protective bedding when you provide one for them.
Cats will roll up in their cozy nest made of cuddly soft fur made with Sherpa fabric.
This gives your furry friend the security it needs for a relaxing nap. The dimensionally stable, yet cuddly filling and the silky-soft faux fur will surely make your darling purr comfortably.
Is it Worth Buying a Sherpa Cat Bed?
Sherpa cat beds give your pet an extra layer of snuggly comfort. Faux-shearling is a lightweight and make-up cozy blanket.
Any pet bed lined with super soft sherpa fabric will give your cat or dog that extra cuddle factor they crave.
To make your cat use their Sherpa bed, you'd need to get out the factory smell, and you can sprinkle baking soda on it and spread it overnight.
Cats have a powerful sense of smell and may not want to sleep on a new sherpa bedding if it does not smell ice.
Sherpa fleece cat bed is Ideal for reassuring your pet either at home or when traveling with your pet in your car.
Sherpa and fleece fabric can also be used on pet furniture at home or in the car.
It's easy to use, and wash and can keep your furniture clean since your cat will sit and sleep comfortably in their den.
How do you Wash and Dry a Sherpa Bed?
When the Sherpa cat bed is dirty, it can easily be washed in gentle cycle in your washing machine. You'd need to wash it separately to avoid ruining it.
It is breathable, machine washable, and suitable for tumble drying.
You can wash sherpa cat bedding with cold water and mild detergent by hand or in the washer,  and once it's clean, air dries it to keep it durable.
Warm water should be avoided as it can damage this fabric. Also, you should only wet and clean a stained area of the fabric without deep wash until you feel the blanket is completely dirty.
Washing Sherpa bedding frequently can cause it to shrink, but Sherpa fleece bed item is better since fleece is shrink resistant.
If you want to use a machine to dry Sherpa bedding, put the dryer on a low, tumble-dry setting.
Why don't Cats use their Beds?
Your cat likes to curl up and sleep under blankets or crave an extra layer of warmth, therefore, if the bed can not provide the needed comfort, your cat may not want to use it.
Cats also prefer round beds to square beds because they sleep curled up and a round bed gives a cozy and padded feeling.
Also, cats like both closed beds and open beds, and you can have the 2 types at home. Your cat would prefer a closed bed whenever he wants to be alone rather than playing with people at home but can sit on an open bed to relax for a while and jump off to play again.
If you use a suitcase instead of a cat bed, make sure you put soft bedding and make it look like a real cat bed, otherwise, your cats may not want to use it.
Conclusion
You don't have to let your cat sleep on your bed all the time, even when you're not allergic to cat dander.
Purchase a cat bed that provides comfort and makes your furry pet happy.
The comfort of Sherpa bedding is great for your cat and dog pet when they are in their kennel or traveling in the car.
Sherpa fabric can be used as a snuggly blanket for your cat. It can be draped over the cat bed and mattress, giving your cat bed a soft and protective layer that will keep your cat cave in pristine condition.