What is Cable Spool Dog House?
A cable or wire spool dog house is a type of homemade dog shelter you make using a cable spool as the base of the house.
Cable spools are wooden or plastic reels used to store and transport cable, wire, or rope.
Old wooden spools are repurposed to build cozy and rustic dog, goat, or duck kennels, especially for small animal pets.
There are other pieces of furniture like tables, and chairs you can also make out of wooden wire spools since they are strong.
If you want to make your dog kennel with less budget, then wire spools, wood wastes, and shingles from construction sites can be used, or you use the plastic barrels for the doghouse.
You can also get this inexpensive cable spool dog house of different sizes from a commercial producer or avoid the stress and purchase a cheap durable indoor outdoor doghouse under $100 here.
What is Needed for Wooden Wire Spool Dog House?
To make a wire spool dog house for your furry friend, you will need 1 or 2 cable spools, saws, drills, sandpaper, screws, roofing sheets, and polish for finishing.
First, I don't recommend wooden wire spools for constructing huge-size dog houses.
Most people use whole woods in the homemade dog houses with spools, and big-size dogs can be tempted to destroy the shelter when they're bored or not comfortable in it.
Second, you should consider the size of the dog to choose a cable spool that is appropriate for the dog's size.
Make sure the wooden spool is intact, clean, and free of any sharp edges or nails.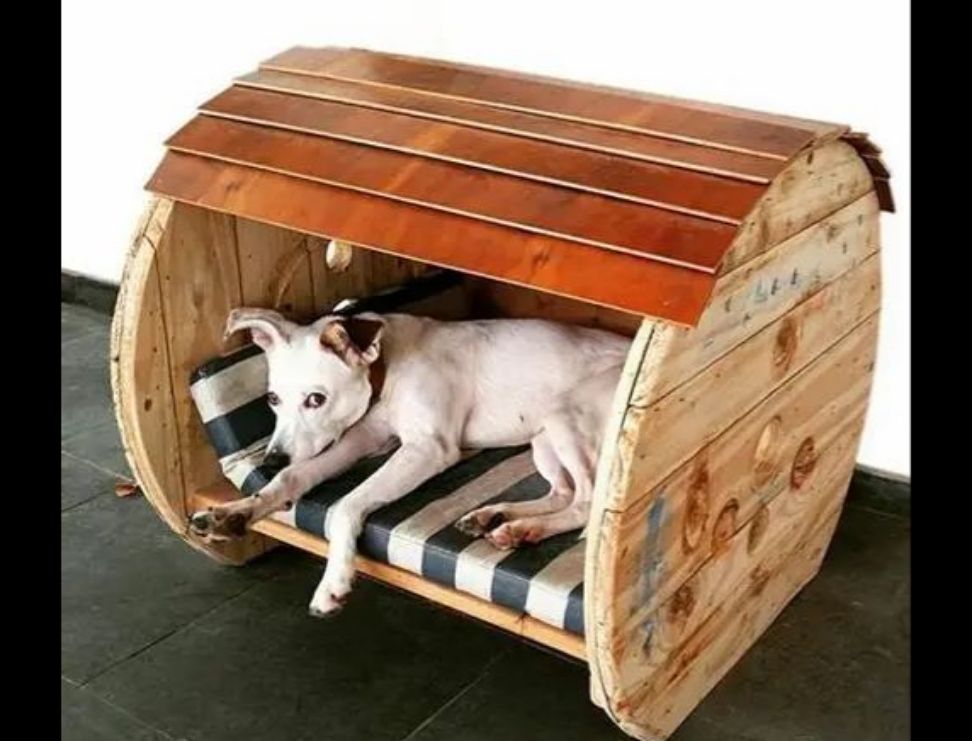 How to Make Dog House with Cable Boxes?
Once you have the materials needed for cutting, drilling, nailing, filling, etc ready.
Take the wooden spool and cut out the reels (the 2 flat sides), then put the barrel ( the part where the cable is curled around) on another side.
You can use one side of the reel for the base of the dog's house and the other side for the entrance or the beam.
For the base, mark the perimeter of the reel to attach a support, similar to the 4 legs of a chair.
On the other reel, you can use a jigsaw or handsaw to create a round or square opening as you feel would be comfortable for your pet.
Sand the edges of the opening to remove any roughness or splinters.
Drill ventilation holes into the sides and roof of the spool to ensure proper airflow.
Attach roofing material like shingles, metal roofs, or any type to the top of the spool to provide shelter from rainfall and sunshine.
Use sandpaper to smoothen the spool, polish it with quality wood paint to protect it from the weather, and add a decorative touch.
After that, allow to air dry for 1 or 2 days, and add the dog's bedding or blankets inside the spool to create a comfortable space for your dog pet.
Your wooden cable spool dog house is now ready for your furry friend to enjoy.