What Kind of Bed suits my Dog Pet?
Dogs are friendly and active pets, but they sleep for at least 10 hours daily.
Dogs need a medium-firm surface to snooze and enjoy their time alone, and you can always find them sleeping next to you on your couch or at the end of your bed.
Dogs should therefore sleep on their bed rather than the floor or your family bed because they need a bed of their own, perhaps, dogs prefer sleeping on a medium-firm bed.
There are modern design cheap dog beds you can get for your furry friend of different ages, sizes, and breeds.
What's most important is the material used, size, and comfort it provides for your canine.
Puppies and senior dogs for example don't like plush beds because they may find it stressful getting in or out of the bed.
Your pup or small dog breed needs a comfy round bed or box bed to curl up and take a nap, and to keep them warmed in winter.
You can even put a dog bed in their cage so they can feel comfortable therein.
However, the type of bed best for active and giant dogs is a rectangular bed where they can curl and stretch easily.
Dusen Dusen Dog Beds
Dusen Dusen is a clothing brand established by Elien Van Dusen in the US in 2010. The clothing line started with women's wear and prints on wearable silhouettes and expanded to a textile and home goods line, and now produces beautiful dog bedding. throws, pillows, sweaters, and more.
Dogs are not easily attracted to their beds, especially when you don't train them with a dog bed from the pup stage.
However, Dusen Dusen decorative dog beds are driven by animal psychology, inspired by fine arts and dog's brain reaction to color and contrast.
The dog beddings are not just vibrant, and colorful and invigorate your living apartment, Dusen Dusen dog beds are artistically designed with enticing objects, shapes, patterns, and color blocking to stimulate your dog's mind.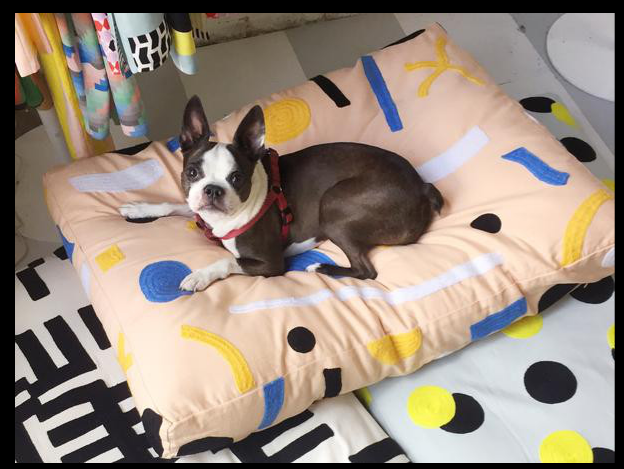 Varieties of Dusen Dusen Dog Bed Items
Common Dusen Dusen dog items are dog beds and throws. Dusen Dusen stripe check, embroidered washable dog beds cost between $100 to $200, and are easy to use.
The material used for Dusen Dusen dog bedding is a Cotton canvas shell with acrylic/wool blend, poly insert, and embroidery technique.
For a stronger and more durable dog bed
Dusen Dusen Stripe Dog Bed
This bedding is handcrafted with a 100% cotton canvas base with an acrylic chain embroidery technique to give the alternating stripe pattern and multi-color dog bed.
It comes rectangular with hidden zip closure and Canvas underside, and the bed cover is removable and washable by hand or with a washing machine.
It's recommended to spot-clean the bedding, and when it's totally dirty, wash the bed cover separately in a spin mode and spread it to dry.
Dusen Dusen Wingdings Dog Beds
This dog bed variety is crafted in a Wingdings pattern and comes in a mix of maroon and cream color.
Dusen Dusen Wingdings dog beds are made with a full cotton canvas base, poly insert, and back zipper.
The dimension is 36x27x4 inches like other beds, and the bed cover can be washed inside out in cold water and mild detergent and spread dry.
Dusen Dusen Dog Throw
Dusen Dusen dog throw is made with the same material and technique as other dog bedding from this brand.
The throw is embroidered in a check pattern, white and black color with contrasting cornflower blue and yellow dot patterns.
The Dusen Dusen dog throw is crafted with cushy stuffing, soft and cozy, and can be used as a floor pillow to give a pooch appeal in your room.