One of the things dog owners don't joke about is the keeping the dog skin healthy, making the fur soft to touch and not dry, brittle or coarse coat that are standing up in patches.
If your dog experience hair loss, especially during the winter season, you can help stop the shedding with supplements that improve dog's skin and coat.
It is not just the season that's causing lines in the fur, itchy skin or dandruff but deficiencies in protein and fats like the omega 3 and omega 6 fatty acids.
This usually result to flaky and dull skin when your pet is not fed with meal that are rich in the essential nutrients for healthy growth and skin care.
Essential Oils for healthy Dog's Skin
While Lavender oil, Oregano, Coconut, Clove oil, Mountain Savory, Peppermint oil, Roman Chamomile are all healthy oils for dogs, evening primrose is another healthy oil for dog's health.
Primrose is a popular addition to conventional animal feed and is often administered in particular to dogs.
Health Benefits of Evening Primrose Oil 
The primrose serves as a supplier for the valuable polyunsaturated fatty acids, in particular the anti-inflammatory gamma-linolenic.
Areas of application in the dog include:
fatty acids deficiency
hair loss
skin diseases
and skin irritation due to parasitic infestation.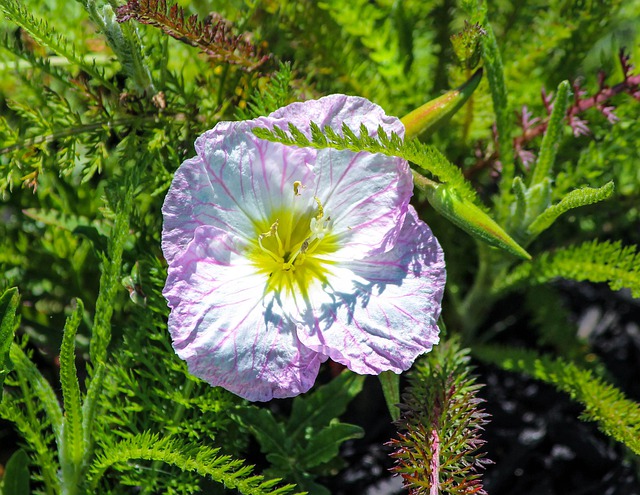 In the absence of unsaturated fatty acids, the dog may experience skin and fur problems, neurological problems and eczema.
If parasites are living on the skin of the dog, or even cat, irritating itching or inflammation of the skin may occur.
The pets are likely going to bite themselves and this easily make them to have wounds at the affected area, which can cause further lesions of the skin.
The evening primrose oil is often used to moisturize dog's dry and itchy skin to control dandruff on their back and as homemade remedy for other skin problems.
The evening primrose can be applied to dog's ear when he's having wound, hot spots on the skin and can develop its nourishing and anti-inflammatory effect directly at the affected and applied area on the skin.
If the dog suffers from skin problems, it may also cause hair loss, brittle fur or breaking hair like I've said earlier.
Here, the power of evening Primrose oil is also able to influence the metabolism of the skin.
The evening primrose is known to control pet inflammation, ease arthritis pain, help in hormone balance, fight infection, improve heart health, kidney etc since it's rich in omega fatty acids.
However, dog groomers, breeders and owners should consult their vets for the appropriate dosage when adding primrose to dog's food for dry skin and other problems.
Too much of omega 3 or omega 6 acids are known to have side effects on dogs and could kill them when there's much of it in the system.
In case of itching, eczema, dandruff, pustules and dermatitis, Primrose is applied to the skin to bring rapid relief to your pets.
In the case of internal application, the primrose oil is one of the things you can add to your dog's food since the oil also has an anti-inflammatory effect on the dog's skin problems.
It is therefore advisable to harness the potentials of primrose oil and use it both orally and externally, but also to mix it under the lining if necessary.
Evening primrose products are available for dogs and cats.
Observe the recommended dosage as recommended by the manufacturer and discuss dosage and duration of application with your veterinarian if necessary.
The application usually takes place over a longer period of time so that the oil can exert its full effect. The application can also be proactive.