Has your puppy started destructive chewing suddenly when left at home while you're off to work, it's normal and could be nutrient deficiency especially in adult dogs.
Things that puppies destroy at Home
Puppies are sometimes found chewing their owners furniture like bed wood, chair, mattress, blankets, carpets or rug in the house, electrical cords, cables in the garden, clothes, shoes, plastics and even rocks among others.
How to stop dog's destructive chewing behavior 
What you need to do is to learn various ways to keep a dog busy indoor for hours while at work and get them entertained, bringing on activities that will keep the dogs stimulated.
However, the best way to stop puppies from chewing everything is to buy healthy chew toys for them.
You can as well restrain their movement by putting in a comfortable crate and put the toys there to keep her active.
Gving your puppy plenty of items to play with is very much necessary. By nature, dogs are very energetic.
During the young age of your dog, similar to a toddler, the puppies will be full of energy.
They will require a lot of playtime and a number of accessories to entertain them in that play time.
Giving these puppies some toys to play with is the right way to go.
While there are plenty of varieties in the market when it comes to the types of pet toys, one of the essential toys among them is the chew toys.
Why you need to buy chew toys for your Puppies 
Chew toys will help the puppies kill boredom and will keep aggressive chewers busy for couple of hours.
In fact, it's one of the tips on bonding with your new puppy as it could create strong bond between dog and the owner.
The dog will know you love him by providing for her needs and not just kissing her to show your affections.
If you also have dog that doesn't like you, you can buy chew toys for her and also take the dog on routine exercise.
These will increase the puppies affection and bonding towards you.
Puppies are bound to be aggressive in Chewing while teething 
In the teething stage, which is usually under one year, puppies bite so much, your feet, hands and everything they see.
Don't worry if you've tried some methods and they do not work, only to be waiting for when the puppies will age and stop biting and growling.
Providing the puppies with these chew toys will help them a lot in their teething stage.
Also providing them with a mix of chew toys will engage all their senses and make them active both physically and mentally.
Due to this reason, it is vital to choose the right chew toys for your puppies.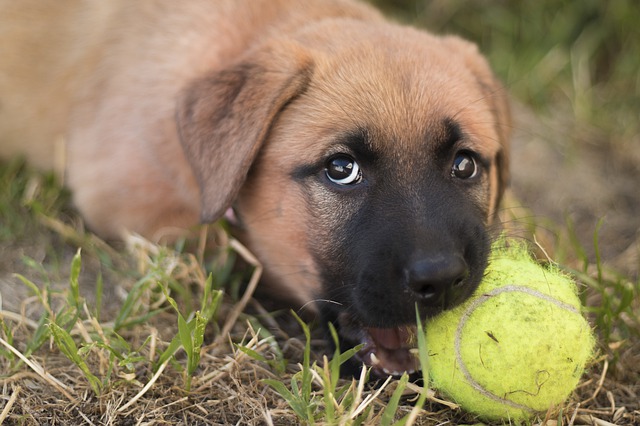 Vet Recommended Safe Chew Toys to choose
One of the most popular and most preferred chew toys available is Kong.
It is usually recommended by vets because it's one of the best chew toys for aggressive puppies.
Going for Kong and other hard rubber equivalents will make sure the chew toys are long lasting.
In fact, there are varieties available here where are options to fill liquid in the chew toy.
Bone toys are one favorite for puppies as well as adult dogs. Since these toys are in the shape of a bone, they will be more than interested to chew it.
There are some bone shaped chew toys which come in a variety of flavors to make it interesting.
These kinds of chew toys will not be durable and should be discarded after heavy use.
There are also rope toys where you should go for the one which does not have loose threads.
Many prefer to use rope toys to play tug of war with their puppies, but they fail to notice the loose threads which start coming out in the process.
These threads when swallowed by the dog, will lead to intestinal issues.
So be cautious while choosing the rope toy and go for the one which is of standard quality.
There are chew toys which come as treats for puppies. These toys will be filled with treats that can be used as an incentive for good behavior.
These chew toys with treats can also be used for training purposes. These toys will usually last longer.
There are nylon toys available which are available in various sizes.
Before buying this kind of chew toy check for the appropriate size for your dog to avoid any kind of choking incident.
These toys are real and cannot be destroyed easily.
Toxic and Unsafe Chew toys to avoid
It goes without saying that not all toys are the right choice for your puppies.
Anything which has plastic sheets or coating on it might not be the best choice as it will be harmful to your pet if it's swallowed.
So also are leather toys, when eating, it will cause digestive problems in your dogs.
Plastic chew bones made with harmful chemicals, especially those cheap toys made from china should be a concern.
They contain Polyvinyl chloride (PVC), phthalates, bisphenol A (BPA) which are all toxic to dogs. You should rather use non toxic silicone toys.
Avoid any kind of toys which are too small for the puppy as there are risks of choking.
Check for any sharp sides or pieces in the toy as it will cause injury to the puppy.
Be cautious while giving a toy with stuffing as the stuffing might be consumed by the dog.