Centuries ago, Cannabis was grown as a crop, but today, it has deviated.
The hemp (Cannabis Indica or Indian hemp mostly) is used for the production of hashish, and its cultivation (as marijuana) is now less criticized because of the inherent health benefits of this plant.
Cultivation as a crop plant for the extraction of oil has gained popularity in recent years (that is, Cultivation for industrial purposes)
And not only have humans benefitted from CBD oil and other end-products but pets too also use CBD products.
Cannabis and hemp plants, for example, have long seen used for the production of hashish.
As the once-maligned plant has seen legislative wins across the globe, cannabis has bolstered a booming industry with a low barrier to entry
Many entrepreneurs opt to grow cannabis using seeds from online retailers such as Zamnesia.com for recreational use or commercial sale.
As popular as cannabis is among traditional users seeking its famous "high," arguably the most popular cannabis-based product to emerge in recent times is CBD oil.
With more users than ever using CBD oil for its restorative and calming properties, many health-conscious pet owners are turning to this cannabis product for their furry friends as a supplement to traditional medications.
Fiber hemp seed oil or Industrial Hemp seed oil also has some good ingredients that have healing effects on animals.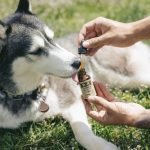 Industrial Hemp Seed Oil is Suitable for Pets
The hemp seed oil is not only healthy food for human beings, but pets can also benefit from the nutrients contents of this valuable oil.
For example, hemp seed oil can be used to feed a dog or prepare their foods with it.
There are now hemp treats for dogs. For your dogs that have a dull coat or shaggy look, hemp oil is a good remedy.
Hemp products for dogs
Products like pet releaf hemp oil 330, 700, 1700, and edibites contain full-spectrum hemp oil.
Other popular products are Honest paws CBD oil, Holistapet CBD oil, Hempworx 250, and 500, and Cannabits dog treats, just to mention a few.
Health benefits of hemp seed oil for Pets
They supply the four-legged animal with essential amino acids, omega-3, omega-6, and omega-9 fatty acids, antioxidants, and vitamins.
There are no side effects experienced among dog owners who gave their reviews in our interview, however, the instruction on the products' label should be followed.
CBD oil can be used both internally and externally on your furry friends.
You can just rub the skin of the dog concerned with a teaspoon of Cannabis sativa seed oil or product that has it.
You can also give CBD treats as food. Just ensure you use it for the animal it's formulated for.
Full-spectrum hemp oil can help to correct anxiety and aggressiveness in your pet.
It can also correct eczema and itching as quickly as possible.
Already after a short period, you can notice an improvement in the skin conditions of your dog or cat.
The fur of the animal will be shining and the entire behavior will be better.
This hemp seed oil is effective against allergies in dogs and strengthens the immune system.
Also, you will quickly notice that the skin of your pet looks healthier and shinier.
A high-grade CBD oil can also help dying cats and dogs with cancer.
The cell growth of the dog and cat will be stimulated and even regenerated.
As a home remedy, it has been used to support other medications against seizures, arthritis pain, hip dysplasia, liver, and kidney problems.
It does prove to be effective in relieving the symptoms, even in feline immunodeficiency virus (FIV)
It's also Interesting to know that, there are testimonials from customers who have tried this oil on their pet.
Just check online or pet stores for hemp oil specifically produced and packed for your pet type, be it dog, cat, or others.
Are there side effects of Hemp treats for Pets?
Cannabidiol oil dog treat is used for both dogs and cats without side effects, however, you need to buy it from a trusted brand.
The reason being that many manufacturers may claim their products have CBD which may not be true.
During processing, the solid might have been contaminated, and this will cause trouble for the pets.
It may also be that the oil contains a high amount of THC, which may be toxic to your pets.
Conclusion
To get good fiber hemp seed oil with high quality, it should be cold-pressed.
Pressed in the oil mill and heated for not more than 40 to 60 degrees.
If it is not cold-pressed, it loses some ingredients and taste.
These are some hints on the factors that contribute to CBD pet products.
Ensure you read the label of the product before even buying, also talk to your vet if you intend to buy hemp treats or oil for your pet.